HORIZON VOL. 56
HORIZON LIFE
OWNER EXPERIENCE
After owning and cruising aboard monohulls for decades, these owners built their first Horizon Power Catamaran. But theirs is no ordinary PowerCat; this PC52 is the first to feature a skylounge and internal stairs.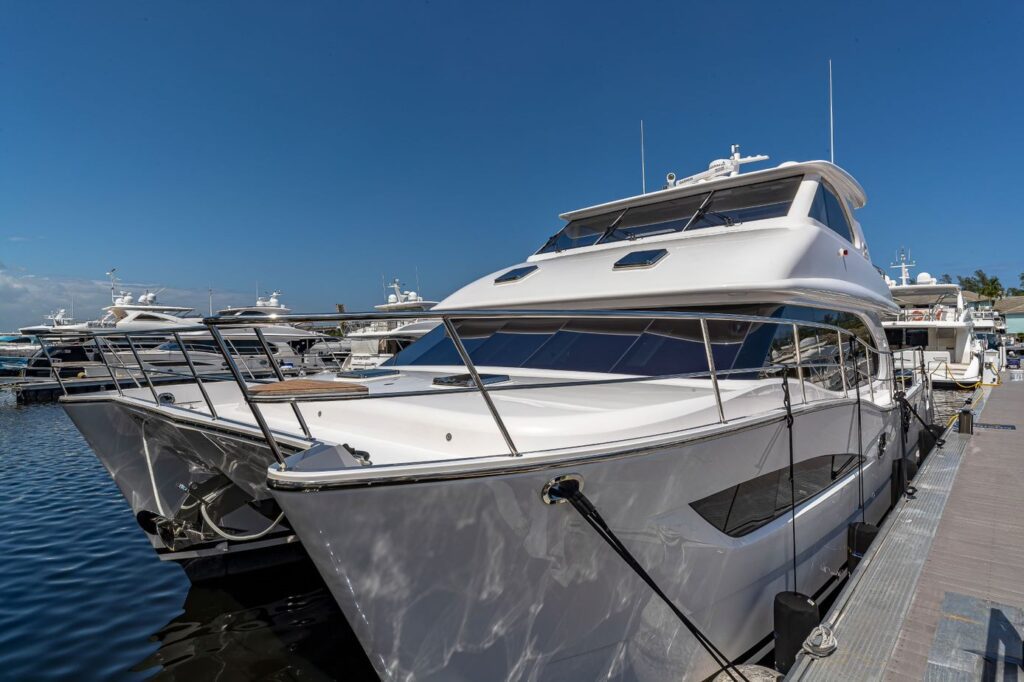 Q. How does your boating story begin?
A. We started boating in 1985, around the same time we started dating. It was on a 14ft aluminum haul with a pull-start motor on the back and we spent our days cruising the Kankakee River and buzzing around the Great Lakes. Over the years we owned a couple of pontoon boats, but didn't really graduate until we purchased a 43S Azimut in 2011. Then we moved on to a 62S Azimut, which broke down around Mackinac Island and we had to slowly motor around to Walstrom Marine. That is where we found our next boat, a 60ft Hatteras.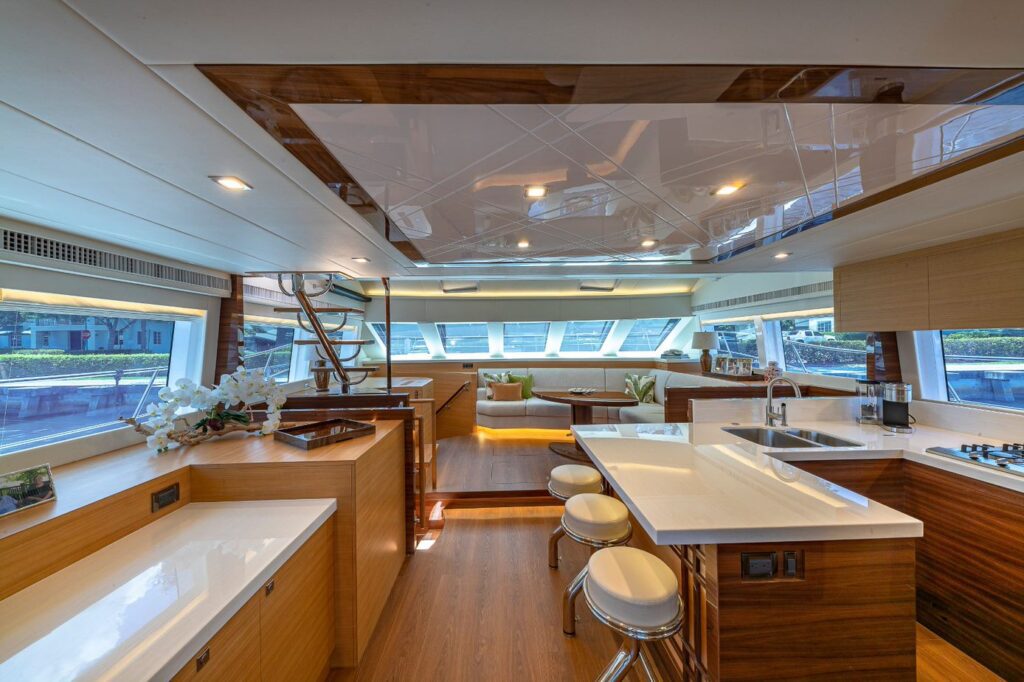 Q. How did you hear about Horizon Power Catamarans?
A. We attended a couple of boat shows up and down the east coast of Florida and always passed by the Horizon Power Catamaran tent. We finally toured the PC60 and were amazed with the beam, which allowed for an open layout and generous interior space. For the next few years we always stopped by the booth. We finally had a sea trial and that's all it took. We were really impressed.
Q. Was your intention always to build and customize your own boat?
A. We originally started off looking at the preowned catamarans that were available but they didn't have everything on our wish list. So, we talked with Richard at Horizon PowerCat and started the design process. For her, it was the bathtub; we absolutely had to have a bathtub. The enclosed skylounge and the internal stairs were also a must. It gets chilly during the summer nights on the Great Lakes, so we wanted an enclosed skylounge with internal stairs so we didn't have to go outside to get upstairs and we could fully enjoy the entire boat during different weather conditions. We didn't want to have to go outside to get upstairs every time. For him, the mechanics were a high priority, so the added features like the Seatorque Boss drive system and Veem Propellers were important.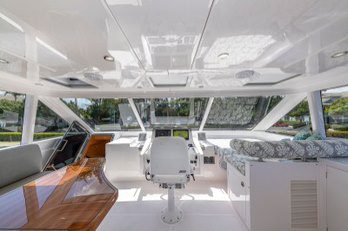 Q. How was the build process?
A. The build took about a year, and it was fun and went smoothly, although the choices were overwhelming at times! We definitely had a team behind us. We would do some research and Leigh would do her research and then we would come together and go over the different ideas and options. Sometimes Heidi and Leigh would even come together with the same ideas. For him, working with Richard and the yard helped immensely. Austin and his team helped so much with the stairs and the bathtub – things we could have lived without but didn't want to. While COVID-19 restrictions kept us from attending the launch, at the same time we didn't feel the need to. The communication between everyone was exceptional. We trusted them to build a gorgeous boat and they did. From working together with Richard and Leigh at Horizon PowerCat to working with the yard, it was a great experience overall.
Q. What was your initial reaction when you got to see your yacht for the first time?
A. Wow! It felt almost surreal, like we were walking onto someone else's yacht. The pictures don't do it justice. It was quite an experience, from the planning and decisions to actually seeing the boat when you walk onboard. We always owned used boats, but with this build there was so much anticipation. We were so pleased with the workmanship, the woodwork – which was phenomenal – and all of the thoughtful extras that came with the boat. We were also floored by the tremendous hospitality and all the wonderful gifts on the christening day. It was our first christening, and our friends Ray and Judy were so happy to be a part of the experience too.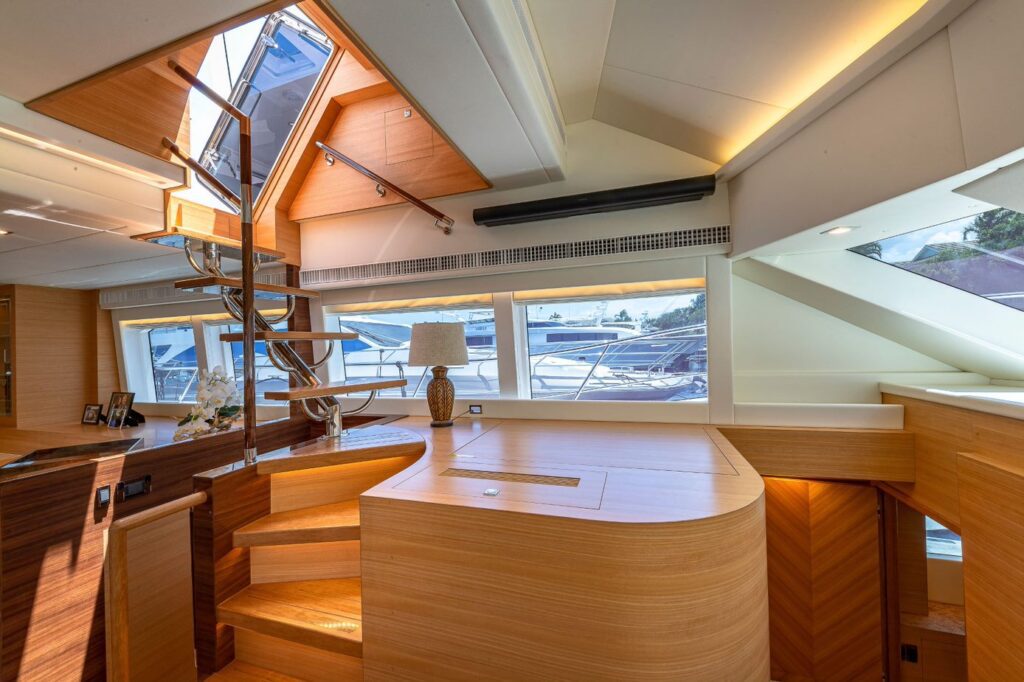 Q. What are your cruising plans?
A.Florida and Bahamas, particularly the Florida Keys for this winter. We always go by car and every time we wonder what it would be like to arrive by boat. Well, now we can! Then next summer we will take her north up the east coast and into the Great Lakes.